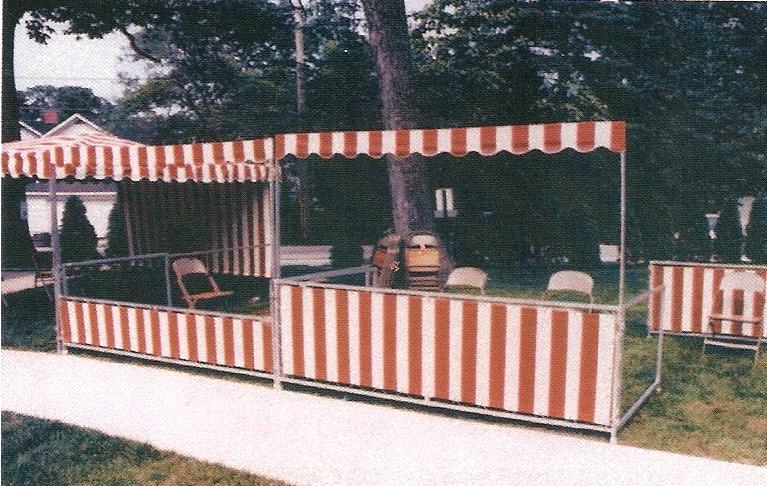 HINGE BOOTHS
Hinge booths are self-supporting frames, 8-ft. wide, and come with hinged side supports plus valance poles and a valance.
High front hinge booths are for regular usage by teens and adults.
Low front hinge booths are for games aimed at young children.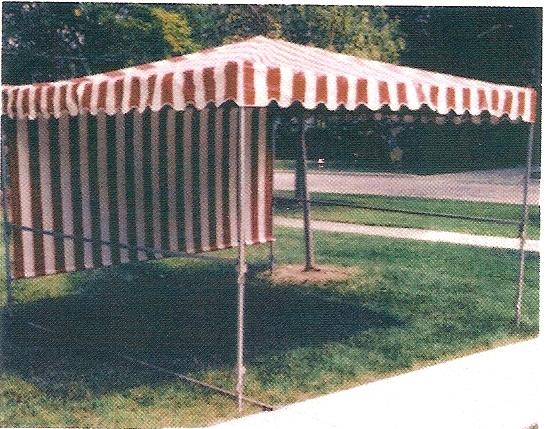 CANOPY BOOTH
Canopy Booths - 10' x 10' with Red & White Striped Canvas Tops
(Backdrop hanging in back of booth is extra.)
Click any of the following to learn more about how Fund Resources can help with your event or to return to the previous page!

CARNIVALS & BAZAARS HOME
Fund Resources, Inc.
P. O. Box 20583, Houston, TX 77225
Phone: (713) 649-2100 or (800) 327-2106

Fax: (713) 649-2199



E-Mail: fundresources@att.net
Fund Resources, Inc. - providers of Inflatables, Moonwalks, Bounces, Moonbounces, Interactives, Obstacles Courses, Slides, Bungee Runs, Water Slides, Joust, Rides, Dunk Tanks, Rock Walls, Trackless Train, Concessions, Games, Booths, Prizes, Novelties, Rentals, Redemption Booths, Confetti Eggs, Silly String, Sandy Candy, Clowns, Face Painters, Magicians, Tents, Tables, Chairs, Popcorn, SnoKones, Cotton Candy and Hotdog Warmers for Company Picnics, School Carnivals, Church Bazaars, Festivals, Parties, Benefits and Special Events. We provide the original in-school holiday shopping program Santa's Wonderland Gift Shop / Holiday Wonderland Gift Shop featuring gifts on consignment, no inventory services, cash register on loan, free delivery and pickup, daily re-orders, rolling metal cabinets and quality merchandise. We also provide the Adventure Land Book Fairs program, the Reading Point Store program for school AR redemption prizes, the Mother's Day Gift Shop and the Valentine's Day Gift Shop programs. Serving schools, churches, companies and organizations in Texas and across the USA.
All information shown, services offered and prices listed on this website (or on downloads from this website) are subject to change by Fund Resources at any time. Sept. 2020 - all previous handouts or information may no longer be valid so please be sure to request the most recent publications, information or policies on using our services and equipment.